Cahill Physical Therapy Treatment Modalities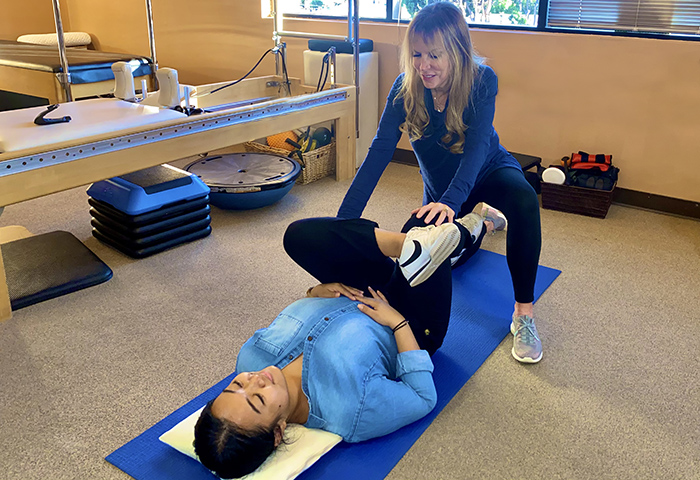 Cahill Physical Therapy is the ideal place for your healing to begin. Physicians refer their patients to Cathy because they know she will deliver the right care, using the best techniques for their specific situation. Her concierge services, set in an intimate and peaceful environment, allows patients to focus on their personal recovery and maximize their results.
Once your condition is evaluated, an individual physical therapy plan specific to your needs is put into place. Depending upon your particular condition, any of the following treatment modalities may be utilized to increase your mobility and return you to a pain-free state of wellness.
Developing and maintaining a strong core will help your entire body work better. The core consists of muscles in your lower back, pelvis and abdomen, all of which work together. Engaging these muscles is not something most people do consciously. Learning how to effectively co-contract them is important for strengthening your center, which contributes to better balance, flexibility and cardio performance. Without it, you are susceptible to poor posture, lower back pain and muscle injuries.
Core strengthening is a vital tool in treating back and sciatica pain. At Cahill Physical Therapy, our specialists use a variety of physical therapy methods, including Pilates and Gyrotonic methodology to condition your core, providing neuromuscular reeducation. This unique, whole-body approach to rehabilitation has helped patients recover quickly and achieve new levels of strength, stability and mobility.
When blood flow to damaged tissue is increased, healing is accelerated. Using
Deep Tissue Laser Therapy
to flood the tissues with photons, energizes the damaged cells and increases circulation to the painful area. Inflammation is reduced and the metabolism in the tissue's cells increases, providing the optimal environment for your tissue to repair itself and pain to diminish.
Deep Tissue Laser Therapy treatment involves placing the laser on the skin and allowing the healing energy to penetrate deep into the tissues. The contact hand piece is designed to allow the practitioner to physically manipulate the tissue while administering the remedy.
When you are treated at Cahill Physical Therapy for back pain, spinal stenosis, strained muscles or ligaments, your protocol may include Deep Tissue Laser Therapy along with other modalities.
Electrical stimulation is a physical therapy modality used to treat a variety of physical complaints. It affects the body in many different ways including stimulating muscles to contract, stimulating nerves to decrease pain, reducing inflammation and increasing blood flow to speed healing. It can also help prevent atrophy and build muscle strength while patients recover from injuries.
The machine providing the electrical current is connected with wires attached to adhesive patches that are placed on the skin. Electrical current is to the patches and delivered into the muscle tissue below, causing a sensory or motor response.
It works by mimicking the natural way the body exercises its muscles. The electrodes deliver impulses that make the muscles contract. It increases range of motion and circulation. Electrical stimulation is used in treating conditions like sprains, arthritis, back pain, shoulder injuries and sciatica.